The Reina Sofía School of Music has a concert hall at its headquarters, the Sony Auditorium, that plays a leading role in its academic project. This space has been conceived as a chamber music hall and features an average of 150 concerts annually starring students and professors from the School as well as renowned international artists.
The auditorium is the work of architect Miguel de Oriol e Ybarra, with acoustics by Vicente Mestre and an organ built by Gehrard Grenzing, and has a stage that measures 91.31 square metres and seating capacity for 351 people, distributed between the stalls (278) and first mezzanine (73).
The Reina Sofía School has developed the Seat Associates programme, where sponsors can support the School's project by having one of the seats of the Auditorium permanently named after them.
Check the Concert Calendar here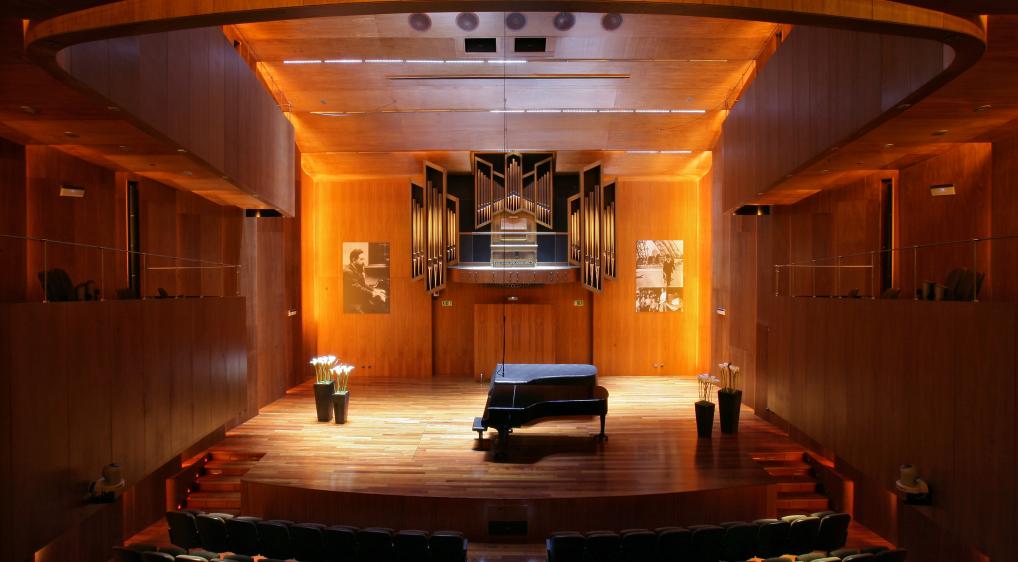 The auditorium also has:
Audiovisual equipment: microphones, video recording system, projection and sound system, motorized large format screen, audio recording/editing unit, dock for mobile units, etc.
Simultaneous translation booth and individual headphones for listeners
General and stage led lighting as well as a quartz lighting system
General and stage air conditioning system
Production control booth
Assembly and access: elevator and hydraulic lifting platform on the stage
Four dressing rooms: Two individual and two shared
Cloakroom
Personalized service for box office/ticketing
Office for catering service
Staff for production design and coordination
Technical staff for audio, video and lighting
Service for recording and delivery in DVD and CD format
Service to send invitations, make reservations and protocol
Service for monitoring the entrance, ushers and cloakroom
The Sony Auditorium, the stage of the Albéniz Foundation, has undertaken a project to modernise the digital audio and communications systems, the digital lighting and digital video systems and the digital tools and systems for artistic management and production of shows, thanks to funding provided by the Regional Ministry of Culture, Tourism and Sport of the Community of Madrid under the "NextGeneration EU Recovery, Transformation and Resilience Plan (financed by the European Union)".