The Reina Sofía School of Music, within its concert facet, has several orchestral ensembles, made up of its students, and conducted by professors of the School and guest maestros.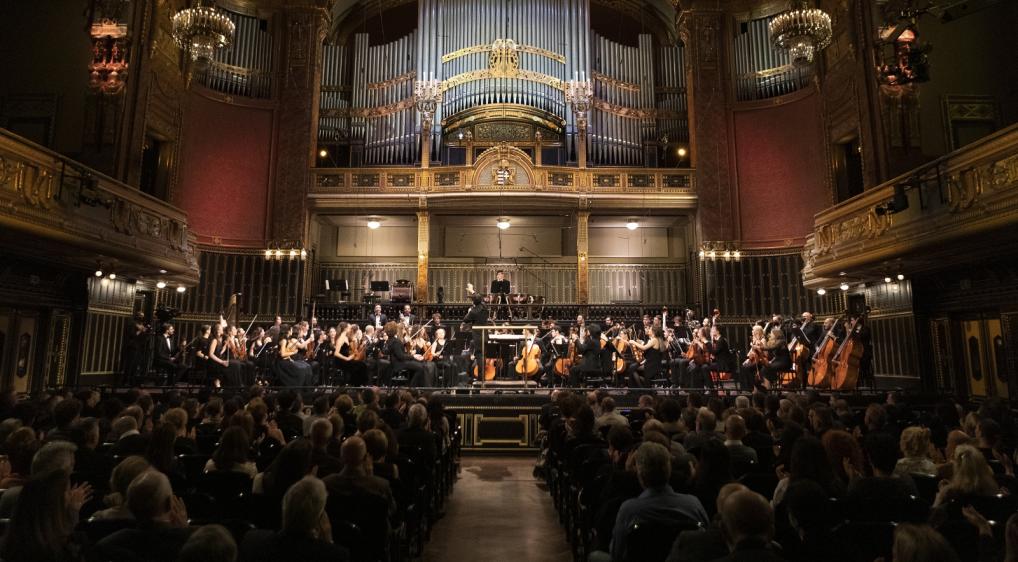 The Freixenet Orchestra of the Reina Sofía School of Music was formed in 1993 and is presented in two dimensions: symphonic and chamber. In its symphonic format, the principal conductor is Maestro Andrés Orozco-Estrada and, in its chamber format, Sir András Schiff. Additionally, throughout its career, the Orchestra has been conducted by many maestros: David Afkham, Vladimir Ashkenazy, Rudolf Barshai, Luciano Berio, Péter Csaba, Sir Colin Davis, Plácido Domingo, Péter Eötvös, Leon Fleisher, Enrique and José Luis García Asensio, Miguel Ángel Gómez Martínez, Pablo González, Pablo Heras-Casado, James Judd, Zoltán Kocsis, Stefan Lano, Jesús López Cobos, Lorin Maazel, Jaime Martín, Zubin Mehta, Juanjo Mena, Yehudi Menuhin, Krzysztof Penderecki, Víctor Pablo Pérez, Josep Pons, Alejandro Posada, Antoni Ros Marbà, Jordi Savall, Hansjörg Schellenberger, Maximiano Valdés, Gilbert Varga and Támas Vásáry.
The School Orchestra, whose main sponsor is Freixenet, has a dual mission: to be both an instrument of education and culture. As a cultural identity it seeks to bring the orchestral repertoire of different periods and styles to the audience from a new perspective. As an educational instrument, it provides training and experience to the students at the Reina Sofía School in the discipline of orchestral performance, which is fundamental for all young musicians.
The Orchestra has performed with great success in the main halls of Spain, such as the School's Auditorio Sony, Auditorio Nacional de Música, Teatro Real, Teatro Monumental and Museo Reina Sofía in Madrid, Gran Teatre del Liceu and Palau de la Música Catalana in Barcelona, Palacio Euskalduna in Bilbao, Palacio de la Música in Valencia, Auditorio Fórum Evolución in Burgos and the Palacio Real in Madrid, La Granja, El Pardo and El Escorial; as well as at the Academia Santa Cecilia in Rome, Pleyel Hall in Paris, Alte Oper in Frankfurt and Beethovensaal in Hannover. In 2021 it performed within the School's 30th Anniversary Tour, conducted by Andrés Orozco-Estrada and with Arabella Steinbacher as soloist, performing at Madrid's Teatro Real, Bratislava's Reduta Hall, Budapest's Liszt Ferenc Academy and Vienna's Musikverein.
It has also completed numerous recordings, such as those made for Sony Spain, Radio Clásica de Radio Nacional de España, Televisión Española and Canal Plus, as well as a CD published by the Italian magazine Amadeus, with the latter conducted by Luciano Berio.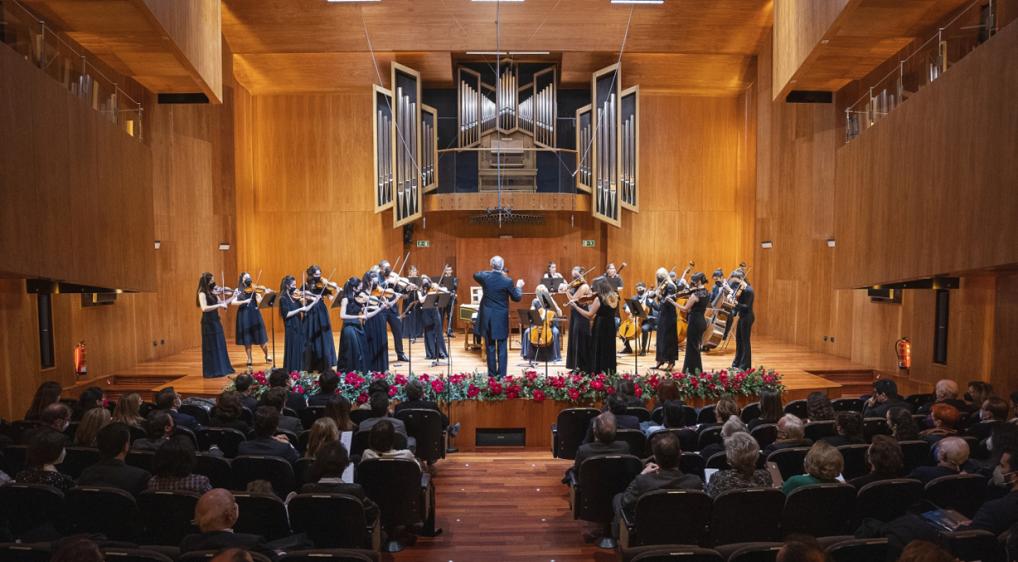 The Reina Sofía School of Music's Fundación EDP Camerata was born in December 2003 as an intermediate ensemble between the orchestra and the chamber music groups, which has a special significance both because of the richness of its repertoire and due to the educational value of its practice. Formed with a double dimension, wind and string ensembles, during three years it carried out a very intense work under the guidance of Maestro Rainer Schmidt, who was in charge of this speciality at the School during that time. Renewed in its composition and musical objectives, the Camerata began a new phase in 2007, in a concert conducted by Maestro Ralf Gothóni. Since then, and in addition to the aforementioned, it has been conducted by Maestros Jean-Jacques Kantorow, Wolfram Christ, Hansjörg Schellenberger, Péter Csaba, Günter Pichler, Paul Goodwin, Gordan Nikolic, Ivan Monighetti, and Giovanni Guzzo.
Since the 2010-2011 academic year, the EDP Foundation has been the sponsor of this ensemble, which has performed in Madrid and Santander.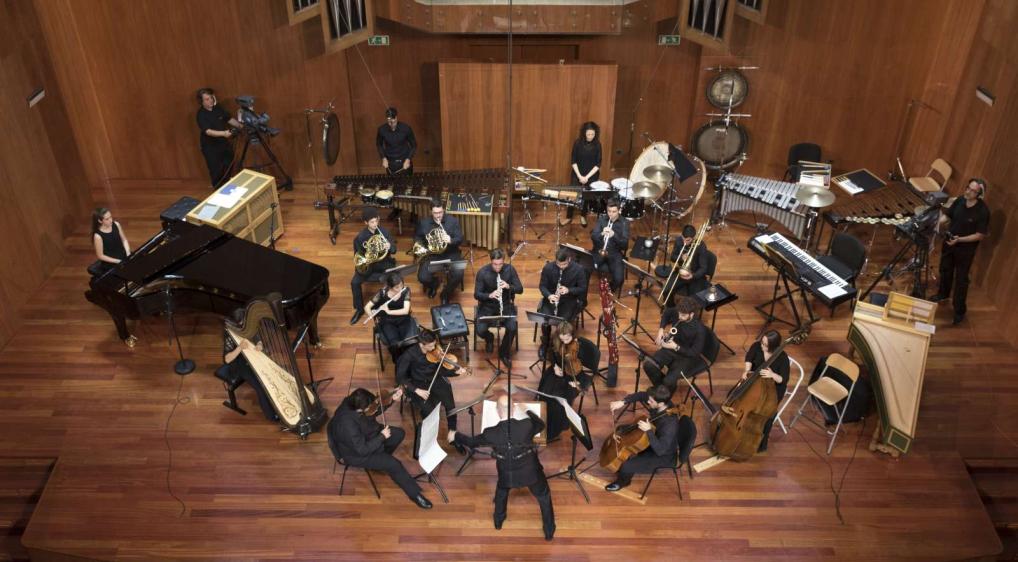 The Reina Sofía School of Music's Sinfonietta was born on the same day that the School paid tribute to Enrique Franco, on 14 April 2011. In other words, it was marked from its birth by the traits that distinguished this great erudite: intellectual breadth of vision and contemporary passion in the choice of repertoire.
Moreover, having been born within the Reina Sofía School, the Sinfonietta has a series of characteristics that make it unique. It approaches its performances with the highest aesthetic demands, and, like the other sections of the School, it counts on the greatest masters, without any criteria other than quality and efficiency. This is demonstrated by the fact that Hungarian composer and conductor Péter Eötvös is its advisor. Besides him, Zsolt Nagy, Peter Rundel, Pascal Rophé, Stefan Asbury, Baldur Brönnimann, Johannes Kalitzke and Jorge Rotter have already conducted this ensemble. On the other hand, the Sinfonietta's concerts are always linked to the work that its members have done beforehand with their professors, since the Sinfonietta is guided by the principle, basic to the School, that the stage is the necessary extension of the classroom.
The Sinfonietta, which came into being thanks to the collaboration of Fundación BBVA, varies its instrumental needs according to the repertoire, but, behind its variable geometry, a soloistic structure can be discerned: all the instruments of the orchestra, but often only one from each family. This is no coincidence. This structure in itself gives a pointillist colour, pure timbres, and allows for the kind of virtuoso writing that is typical of the 20th and 21st century music. The same that has been cultivated by admirable ensembles, from the pioneering Die Reihe of Friederich Cerha and Domaine Musical of Pierre Boulez, to the Ensemble Intercontemporain, the Ensemble Modern or the London Sinfonietta. In Spain, the initial work of heroic groups such as Círculo, Koan, Barcelona 216, Diabolus in Musica, Teatre Lliure or Enigma has today given rise to ensembles of great international standing, such as the Plural Ensemble.
The Reina Sofía School of Music's Sinfonietta has contributed, with as much humility as ambition, to these glorious traditions since its foundation, offering its programmes at the Sony Auditorium of the School (in collaboration with Fundación BBVA) and at the Auditorium 400 of the Reina Sofía Museum (organised by CNDM in collaboration with Fundación Cisneros/Colección Patricia Phelps de Cisneros).