30th Anniversary of the Reina Sofía School
---
During the 2021-2022 and 2022-2023 school years, the Reina Sofía School of Music celebrates the 30th anniversary of its foundation. From its beginnings in 1991, the School has grown and evolved while fostering the talent of young musicians from around the world, while bringing music closer to society. To commemorate these three decades of work, the School will launch a series of activities.
The 30th Anniversary of the School is supported by Asisa and Mutua Madrileña.


30th Anniversay Concert Series
Throughout 2022 and 2023, music lovers, families and fans in general will be able to enjoy a great series of concerts in which chamber music, singing, and its chamber orchestra will be combined with concerts for families, jazz fusion music, and its contemporary formation 'Sinfonietta'. The concerts of this special "30th Anniversary" series will take place in different venues such as Auditorio Sony, Auditorio Nacional de Música de Madrid, Teatro Monumental and Palacio de Festivales de Cantabria.
Great conductors such as Johannes Kalitzke, Sir András Schiff, Zsolt Nagy, Andrés Orozco-Estrada and Juanjo Mena, together with the talent of established artists and the School's young musicians, will perform in different formats: chamber music, recitals... The concerts can be consulted in the School's Calendar.
One of the biggest dreams throughout these three decades has been to launch on a grand European tour with our students. The Freixenet Symphony Orchestra, along with its Principal Conductor Maestro Andrés Orozco-Estrada and violinist Arabella Steinbacher, toured four of the greatest music centres of Europe. The tour began in Madrid, at the Teatro Real, on 7 October; they travelled to Bratislava to take part in its Festival on 9 October; to Budapest to perform at the Liszt Ferenc Academy of Music on 10 October; and finished at the Musikverein in Vienna on 12 October. During this last section of the tour, our students collaborated with the Superar project, assisting disadvantaged children and youngsters through music.
The tour was supported by Abu Dhabi Festival as cultural partner and IF International Foundation.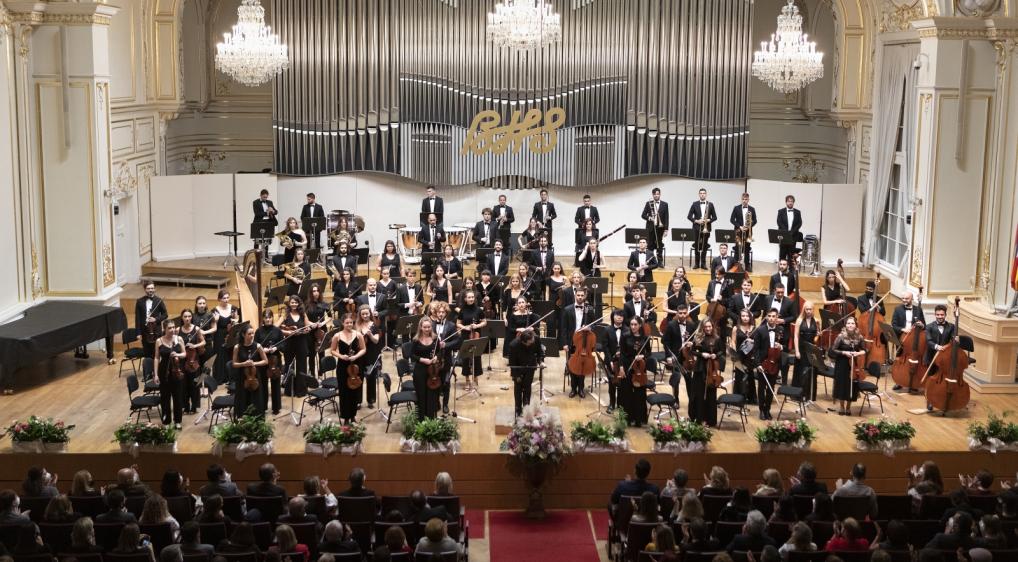 La Orquesta Sinfónica Freixenet dirigida por Andrés Orozco-Estrada, en el Festival de Bratislava