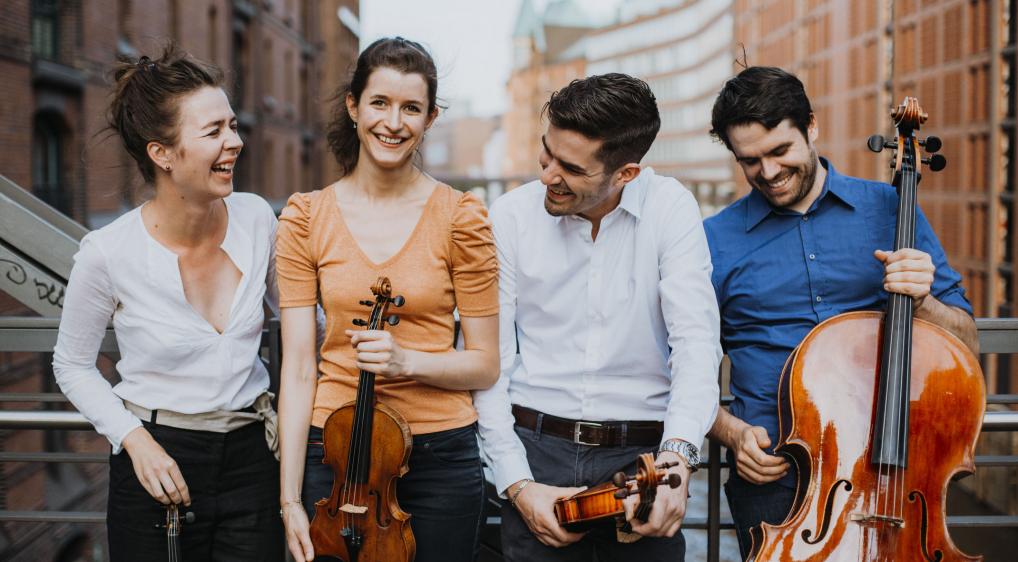 The Aris Quartett was founded in 2009 at the initiative of Hubert Buchberger, chamber music Professor of the Hochschule für Musik und Darstellende Kunst in Frankfurt. It is currently formed by Anna Katharina Wildermuth and Noémi Zipperling (violins), Caspar Vinzens (viola), and Lukas Sieber (cello).
The Quartett has a great influence by Günter Pichler, Eberhard Feltz and the Artmis Quartet, among others; and has been granted scholarships by Jeunesses Musicales International, Irene Steels-Wilsing Foundation, Villa Musica Foundation in Rhineland-Palatinate, Peter Fuld Foundation, Anna Ruths Foundations, and Yehudi Menuhin's "Live Music Now".
It has been awarded several prizes in competitions such as the Brahms in Pörtschach (2012), European Chamber Music Competition Karlsruhe (2013), August Everding in Munich (2014), and the Joseph Joachim Chamber Music Competition in Weimar (2016). He has also received the Chamber Music Prize of the Jürgen Ponto Foundation and no less than five prizes in the ARD International Music Competition in Munich.
The Aris Quartett has become one of the most attractive quartets of its generation, with worldwide commitments and performances at the best concert halls and festivals the world over. In addition to dedicating to the classical literature of string quartets, it also performs unusual pieces, particularly focusing on 20th century compositions. This characteristic has been reflected in its first CD −published by the record labels Telos Music and Genuin Classics−, which has been enthusiastically welcomed by the critics, and where works by Haydn and Beethoven, as well as Reger, Hindemith, and Zemlinsky were included.
Since 2015, the Aris Quartett furthers its chamber music training with Professor Günter Pichler in the International Institute of Chamber Music of Madrid at the Reina Sofía School of Music, thanks to a scholarship of the Albéniz Foundation.