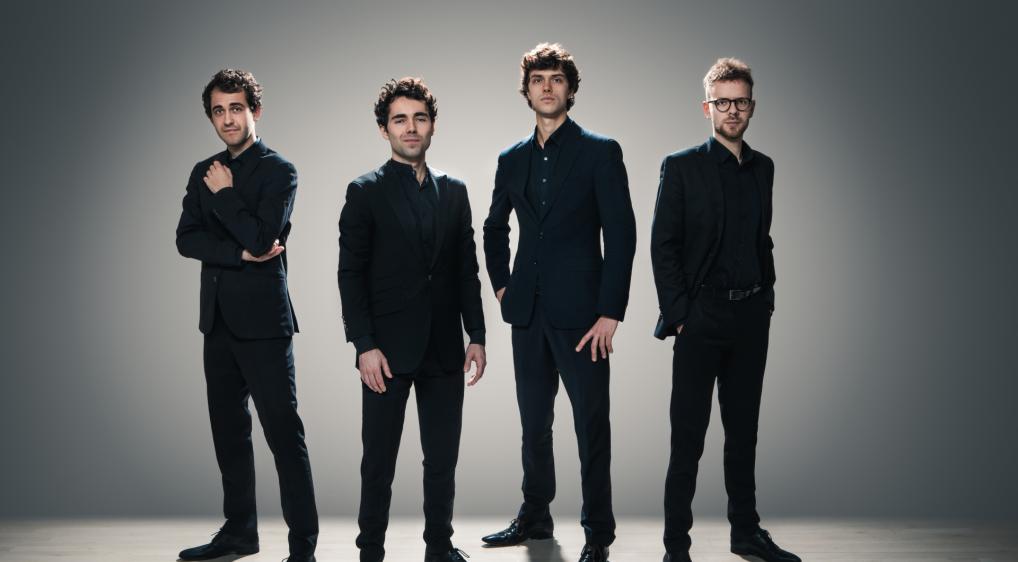 The Vision Quartet was founded in 2012 and is formed by Jakob Encke y Daniel Stoll (violins) Stuart Sander (viola), and Leonard Disselhorst (cello).
Their distinctive characteristics of performing all their programmes standing up and completely from memory lend its performances an added intensity, which has been widely praised.
They have studied with Heime Müller, Eberhardt Feltz and Gerhard Schulz, among others, and have attended in masterclasses at the Jeunesses Musicales, ProQuartet in France and the Foundation Villa Musica Rheinland-Pfalz.
It has received several awards in competitions such as the Felix Mendelssohn Bartholdy Competition in Berlin, International Concours in Geneva, the prestigious Würth Prize, and the audience prize at the Mecklenburg-Vorpommern Festival. It has also toured through North and South America, Asia, and most of Europe.
The Quartet has performed in concert halls such as the Gewandhaus Leipzig, Tonhalle Düsseldorf, Konzerthaus Berlin, Alte Oper Frankfurt, Concertgebouw Amsterdam and Philharmonie Luxembourg, as well as in prestigious festivals in Mecklenburg-Vorpommern, Rheingau, Schleswig-Holstein, Heidelberg, and Lucerne.
Some of their chamber music partners include Jörg Widmann, Eckart Runge from the Artemis Quartet, Haiou Zhang, Edicson Ruiz and the Quatuor les Dissonances. Their concerts are regularly broadcast by German radio stations such as NDR, SWR and Bavarian Radio. Since April 2015, it has been on the "SWR2 New Talent" programme.
Since 2016, the Vision Quartet furthers its chamber music training with Professor Günter Pichler in the International Institute of Chamber Music of Madrid at the Reina Sofía School of Music thanks to the sponsorship of the Albéniz Foundation.