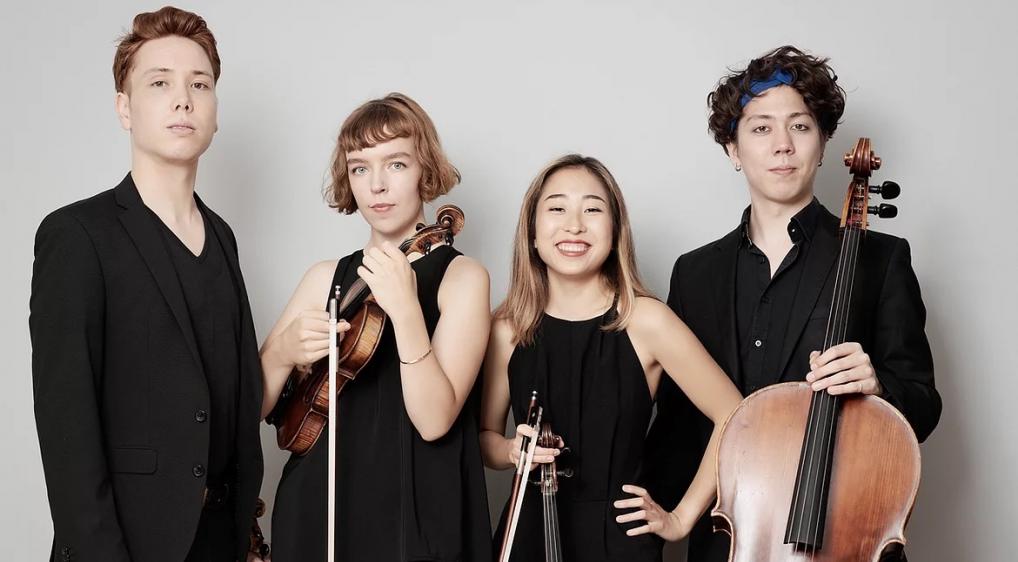 © Peter Adamik
The Berlin-based Leonkoro Quartet was founded in 2019 by four young musicians of different origins and musical backgrounds: Jonathan Schwarz (violin), Amelie Wallner (violin), Mayu Konoe (viola) y Lukas Schwarz (cello). They are currently studying with Günter Pichler (Alban Berg Quartett) at the International Institute of Chamber Music of Madrid within the Reina Sofía School of Music, where they have been granted a scholarship by Santander Consumer Bank AG. They also study with Eckart Runge, and Gregor Sigl (Artemis Quartet). In addition, they have received tuition from teachers such as Alfred Brendel, Oliver Wille, Heime Müller, and Luc-Marie Aguera.
In the summer of 2019, the quartet was awarded the first prize and "Adolfo Betti Award" for the best string quartet at the Virtuoso & Belcanto Festival chamber music competition. At the 64th Jeunesses Musicales International Chamber Music Campus they received the "Walbusch Prize" which includes a concert at the String Quartet Festival at Heidelberger Streichquartettfest. They were also part of MozartLab Würzburg 2020, where they worked with Reinhard Goebel.
In 2021 they won the first prize at the Alice-Samter Chamber music Competition; the second prize at German "Ton & Erklärung" competition of the Association of Arts and Culture of the German Economy at the Federation of German Industries e.V. (Kulturkreis der deutschen Wirtschaft); and the second prize ex aequo (first prize not awarded) and the coveted audience prize at the prestigious International String Quartet Competition "Premio Paolo Borciani".
​For the 2021-2022 season, the Leonkoro Quartet will be performing at renowned chamber music series and festivals, including at the Laeiszhalle Hamburg, the Heidelberg String Quartet Festival, and the Rheingau Music Festival.