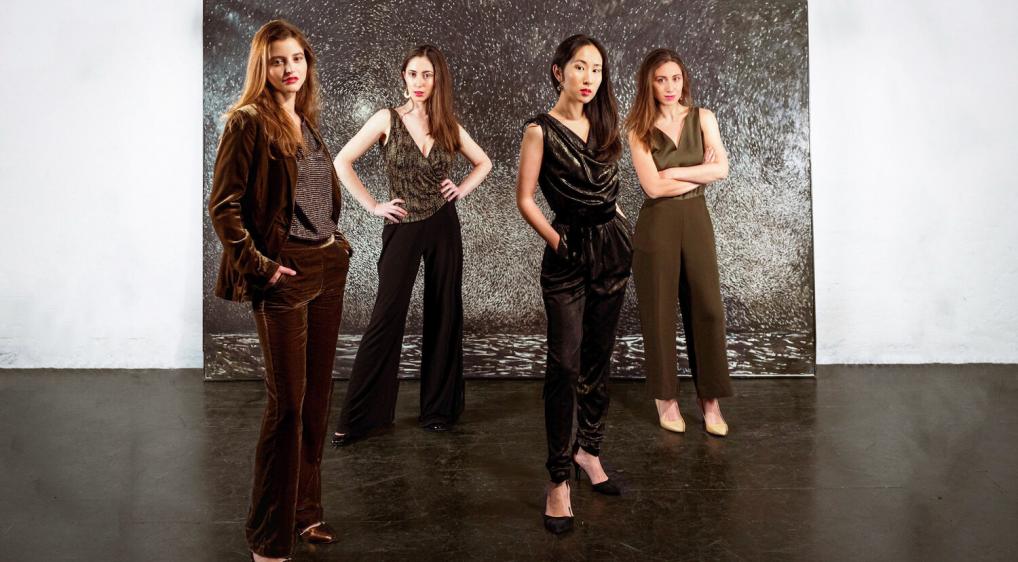 © Edouard Brane
Founded in 2018 at the Conservatoire National Supérieur de Paris, the Mona Quartet represents the unity of four international musical personalities: Verena Chen and Charlotte Chahuneau, violins, Arianna Smith, viola and Elia Cohen Weissert, cello.
They established immediately a presence at such venues as the Grande Salle Pierre Boulez Hall at the Philharmonie de Paris, the Studio 104 at Radio France, and through a series of six concerts, at la Salle Cortot in Paris. In 2020, they were selected among the most promising young quartets from the world to perform at the String Quartet Biennale at the Cité de la Musique.
The quartet has collaborated with such artists as Emmanuel Pahud, Abdel Rahman El Bacha, Valentin Erben, Philippe Graffin and Marie-Joseph Jude. They have offered debut concerts at le Musée de l'Orangerie, le festival Musique à l'Empéri, the Edinburgh International Festival, Jérôme Pernoo's festival Vacances de Monsieur Haydn à la Roche-Posay, the Festival Debussy, Festival de Dinard, Festival du Val d'Aulnay, Festival Soirées Musicales en Val de Seugne, l'Orangerie de Sceaux, l'Eglise de Ciboure, and le musée Jean-Jacques Henner.
In 2019 they were named Artists in Residence at ProQuartet-CEMC in Paris as well as the Foundation Villa Musica in Germany. Since their formation, the quartet has worked with such musical pedagogues such as François Salque, Mathieu Herzog, Valentin Erben, Günter Pichler, Rainer Schmidt, Martin Beaver, Jérôme Pernoo, and Miguel da Silva.
Mesmerised by their talent after their debut at Musique à Flaine, the pianist and composer Abdel Rahman El Bacha dedicated his piece Prélude à cordes to the young quartet and invited them to perform at the 2019 Classissimo Festival in Brussels. The quartet was awarded Le Prix de l'Orangerie de Sceaux and the Prix du Méjan from their time at the Festival Ravel in Saint-Jean-de-Luz.
In the 2021/22 season, you can look for the quartet at the Elbphilharmonie Hamburg, the Brucknerhaus Linz, the Biennale de la Philharmonie de Paris, the Philharmonie de Luxembourg alongside Jean-François Zygel, Icking Festival, and the Concerts de Poche with the Quatuor Modigliani. Besides, it is also the first all-female quartet to join the prestigious New Generation Artists roster at BBC Radio 3 in London for the 2021-23 seasons.
Since 2019, the Mona Quartet furthers its chamber music training with Professor Günter Pichler in the International Institute of Chamber Music of Madrid at the Reina Sofía School of Music.